See Your Credit Score
Understand and Manage Your Score
Credit Sense Now Available
Provident's free credit score service provides members with:
Your free credit score - updated daily

The average credit score in your neighborhood

Credit monitoring and alerts

Pre-qualified offers - see ways you can save money on new and existing loans

Email notifications if your score changes

Tips for improving your credit score and much more!
Credit Sense is easy to access. Just sign on to Provident's online banking in desktop and scroll down the Accounts page, or in the mobile app, click on Credit Score on the main menu.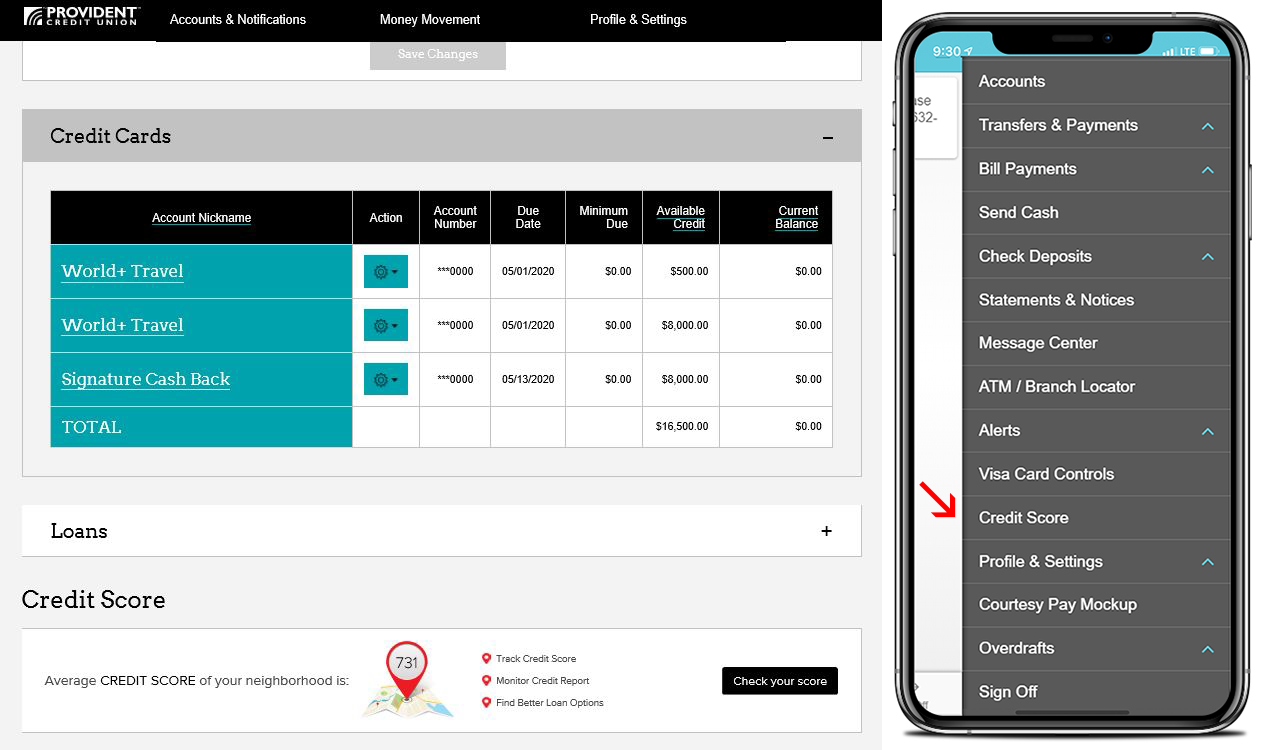 Credit scores displayed by Credit Sense are for educational purposes only. Checking Credit Sense will not have any impact on your credit score. Provident Credit Union will not use Credit Sense's credit score to make lending decisions — we use our own lending criteria for determining credit eligibility.
Members are not required to use Credit Sense or any of the other tools it provides. Members must opt-in to use the service.
Frequently Asked Questions
Will Provident Credit Union use Credit Sense to make loan decisions?

No, Provident Credit Union uses a different credit score model to make lending decisions.

If Provident Credit Union doesn't use Credit Sense to make loan decisions, why do we offer it?

Credit Sense can help you manage your credit so when it comes time to borrow for a big-ticket purchase—like buying a home, car or paying for college—you have a clear picture of your credit health.

How does Credit Sense differ from other credit scoring offerings?

Credit Sense pulls your credit profile from TransUnion, one of the three major credit reporting bureaus, and uses VantageScore 3.0, a credit scoring model developed collaboratively by the three major credit bureaus: Equifax, Experian, and TransUnion.

Why do credit scores differ?

There are three major credit-reporting bureaus—Equifax, Experian and Transunion—and different scoring models that determine credit scores. Financial institutions use different bureaus, as well as their own scoring models. Over 200 factors of a credit report may be taken into account when calculating a score and each model may weigh credit factors differently, so no scoring model is completely identical. No matter which credit bureau or credit scoring model is used, consumers do fall into specific credit ranges: Excellent: 781–850, Good: 661-780, Fair: 601-660, Unfavorable: 501-600, Bad: below 500.

How often is my credit score updated?

Credit Sense will automatically update your score once a month. You can update it more frequently by clicking on the "My Credit Score" tab from the main menu of online or mobile banking and then clicking the "Refresh Score" button.

Will accessing Credit Sense impact my credit and potentially lower my credit score?

No. Checking your credit score is a "soft inquiry", which does not affect your credit score. Lenders use 'hard inquiries' to make decisions about your credit worthiness when you apply for loans.