New Online and Mobile Banking Experience - Now Live
Anytime access to your accounts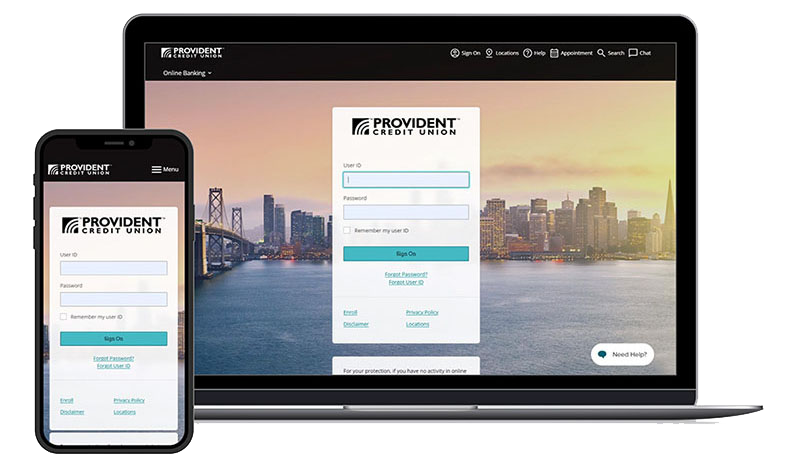 We are excited to announce that we have launched an updated platform that includes a range of enhancements to make your banking experience even better.

Here's what you can expect:
Reorganized navigation that makes it easier for you to find what you need. Whether you're looking for account information, making a payment, or checking your credit card balance, everything you need will be just a few clicks away.
A new quick transfer service that allows you to quickly and easily transfer money right from the main accounts page. This means you no longer have to navigate to a separate page to make a transfer.
Ability to select from a range of payment options, including the ability to pay the minimum due, the entire balance, or payoff amount.
A new in-app chat feature that allows you to easily get in touch with a Provident representative and get any help and support whenever you need it, even if you're on the go. Plus, our co-browsing feature allows us to assist you in real-time, making it easier to resolve any issues or questions you may have.
Improved credit card controls and alerts, allowing you to set spending limits, block transactions based on the type of transaction or merchant and more. For more details, click here.
Enhanced security features to protect your personal and financial information.
We hope you're as excited about these new enhancements as we are.
Online and Mobile Banking Enhancements Pre-recorded Webinar
Get a sneak peek of our new online and mobile banking experience.
Watch Webinar
The New Desktop and Mobile Banking Experience
Online and Mobile Banking Features
How to Create a Transfer
Click on "Make a Transfer" from the "Transfers" menu.

Select a "From" and "To" account. Enter the amount you want to transfer. Select your transfer schedule: Immediate, Future, or Recurring. Select "Continue."

Review and confirm your request. To process the transaction, select "Transfer".

How to Set-Up Automatic Transfers
Have funds transferred automatically between your accounts.
Select on "Make a Transfer" from the "Transfers" menu.

Select a "From" and "To" account. Enter the amount you want to transfer. From the Schedule drop down menu, select "Recurring."

Select a frequency option from the drop down menu. Input a start date. From the Duration drop down, select an end date for the recurring transfer. You have the option of entering a Description and to opt in to receive an email alert when the transfer is completed. Once complete, select "Continue."

Review the transfer information and select "Transfer."

A confirmation of your request will appear.

How to Track Super Reward Checking
After you sign in to your account, select your Super Reward Checking account from the "Account Summary" page.

Select the "Tracker" link.

Your status for Super Reward Checking requirements will appear with details of each requirement listed.

How to Reset Your Account Password
On the sign on screen, select "Forgot Password?."

Fill in the all the required fields. Please note that you can type in your Member Number or Debit Card Number. Select the "Submit" button.

As a security precaution, we will need to verify your identity. You can choose to receive a confirmation code by text message or by phone call. If you prefer to answer security questions, select the "I can't be reached at any of these numbers" button.

Enter the confirmation code you received and select submit.

Create a new password that meets the criteria indicated. Type in the new password and confirm the new password. Select the "Set Password" button to complete your request.

How to e-Deposit
Save yourself the trip to the branch or ATM by using e-Deposit. This service enables you to make check deposits to your accounts using your mobile phone anytime. Using the camera of your mobile phone, simply take a photo of the front and back of your endorsed check and deposit it to your account — it's that easy.
Once signed into the mobile app, tap "Check Deposits," then tap "Deposit a Check."

Select the deposit account and enter the check amount, take photos of the front and back, review the details and tap "Deposit."